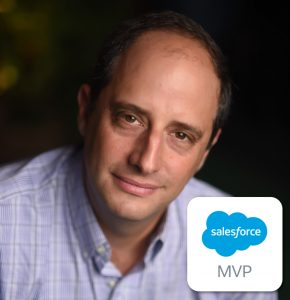 A declarative Salesforce engineer, Salesforce MVP, Trailhead addict, and active member of the Power of Us Hub, I got my start in Salesforce accidentally, like so many of us. I love to help nonprofits use technology and data to work efficiently, solve problems, and make the world a better place.
I've got a blog about using Salesforce for nonprofits and educational organizations. It's called FreeLikeAPuppy.tech.
I am an active member of the Salesforce community, participating in open source community sprints, organizing the PhillyForce and Nonprofit Dreamin conferences, writing articles and blog posts, and regularly presenting at events, including Dreamforce, user group meetings, and community conferences. In 2017, 2019, 2020, 2021, and again in 2022 I was recognized by Salesforce as a Salesforce MVP for sharing my knowledge, leadership, and creativity.
I also hold nine Salesforce certifications:
Salesforce Certified Administrator
Salesforce Certified Advanced Administrator
Salesforce Certified Platform App Builder
Salesforce Certified Nonprofit Cloud Consultant
Salesforce Certified Education Cloud Consultant
Salesforce Certified Sales Cloud Consultant
Salesforce Certified Service Cloud Consultant
Salesforce Certified User Experience Designer
Salesforce Certified Strategy Designer
As Chief Information Officer for Spark (2015-2020), I determined and acted on strategic direction for technology and systems for a $4M nonprofit active in four US cities. I served as system administrator, software engineer, app developer, and tech support for all information systems for 40+ employees. I built and maintained systems to support fundraising, program management, recruitment, and finance (monthly expense and credit card reports) that streamlined operations and saved the organization thousands of dollars per year. I also trained and coached Spark users through in-person, online, and web-based training.
As Assistant Director of Governance and Affiliate Support at the Reconstructionist Rabbinical College (2012-2015), I managed programs and services for affiliated congregations around the country. I implemented Salesforce to track congregational contacts and interactions. I also supported the structure and function of the board of governors, committees of the board, and commissions of the Jewish Reconstructionist movement and planned and implemented distance learning offerings for congregations and members.